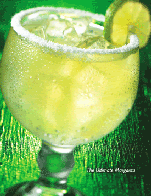 ladies, if you love margaritas as i do, you have to check out
TGI Friday's
Foxxxy Ladies Night every Wednesdays. For just 435Php++, you get a 3-course meal: a choice of 1 appetizer, an entree and a sorbet martini for dessert. The best part? You get free flowing margaritas! woohoooo! It's literally margarita til you drop! Imagine how happy we were! Their Ultimate Margarita, served in a glass sembling a fishbowl (and i mean fishbowl!), is a dream come true for margarita freaks like moi! Choose from 3 different flavors :
The Ultimate Margarita*, their signature Margarita made with Jose Cuervo Gold, Cointreau and Reynal VSOP.
The Candied Orange Margarita, kinda like the classic but served with orange
The Mango-Berry Margarita* which a combination of Jose Cuervo Gold, fresh strawberry puree and the sweet flavor of mango or the new Espresso Martini, made with ABSOLUT Vanilla, crème de cacao and Starbuck's™ Coffee Liqueur.
What are you waiting for? Visit any TGI Friday's all Wednesdays of March and drink til you drop! Cheers to us foxxxy ladies!
*ingredients were taken from TGI Friday's press releases