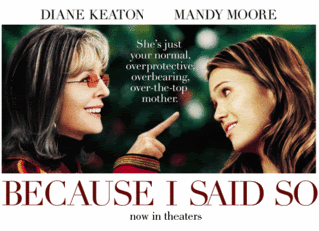 In a desperate attempt te ensure that her youngest daughter doesn't end up like her, Daphne Wilder
(Diane Keaton)
decided to search for the perfect man for her. But when Milly
(Mandy Moore)
found out that the Jason
(Tom Everett Scott)
and Johnny
(Gabriel Macht)
both came out of the personal ad that her mom made, she finally had to say something.
Because I Said So
is a story of a mother's love that tries to answer questions like
"Where does it begin and where does it end?"
. It is a film both the young and the old can appreciate. A mix of comedy and romance plus a heavy dose of reality sure make this film worth watching. And yes, it may help one to understand why moms are the way they are sometimes.